Come Enjoy Colorado's Largest Farmer's Market 
   The Boulder Farmers Market was named the #1 Farmers' Market in the U.S. by USA Today's 10Best Reader's Choice.
     Experience Boulder like a local. The Boulder Farmers Market has become a weekly ritual for Boulderites. Established in 1986 by a handful of local farmers looking to sell farm-fresh produce directly to the public, the Boulder Farmers Market is now the largest in Colorado. As a grower-only market, shoppers are guaranteed the best selection of locally grown, seasonal produce, eggs, cheeses, meats, herbs, flowers, wines and gourmet food products available in Boulder County, most of which is organically or naturally grown/produced. They also get to meet and learn directly from the farmer how their food was grown, when it was picked, how to keep it fresh and, in many cases, new ideas on how to prepare and enjoy it.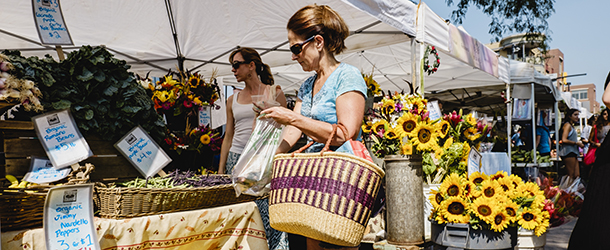 Serious foodies and local chef's shop early to get the best selection, especially during the summer when the leafy vegetables, corn and Colorado-grown fruits arrive. The outdoor food court is a popular meeting place for breakfast and lunch. The combination of freshly brewed coffee, baked goods and a variety of prepared foods by local chefs — together with live music and shaded seating — provide a place to relax and meet up with friends before or after shopping at the market. Market vendors stop selling at 2pm sharp, except in the food court, which continues serving until 2:30 p.m.
   As if this wasn't enough reason to visit the Boulder Farmers Market, a fine arts and crafts fair featuring 25 jury-selected artists and artisans is held one Saturday each month in Central Park adjoining the farmers' market. This highly competitive market attracts some of Colorado's best artists and crafts people. It's the perfect place to find that unique gift or memento of your visit to Boulder.
Also read the Insider's Guide to the Boulder Farmers Market.
"We are a nonprofit organization operating producer-only farmers markets in Colorado since 1987. Our mission is to support, promote and expand local agriculture, making fresh products accessible to our community and strengthening relationships between local food producers and food consumers."
When: Every Saturday 8 am – 2 pm 
Where: Pearl Street Mall – 13th Street, Boulder, CO 80302  
Phone: 303-910-2236
10am – 2pm: live music weekly 
   Downtown Boulder has parking garages, parking lots, street parking, and parking available at Boulder High School. Learn more about parking for the farmers market on:
No pets at the market, please.