This Weekend Will be Sunny and Warm!
Here are a Couple Ideas to get the Family Outside, Enjoying the Sun, Fresh Air and all the Beauty and Entertainment Boulder has to Offer!
Eldorado Canyon State Park 
One of Boulder County's most spectacular natural treasures, Eldorado Canyon State Park is an outdoor-lover's paradise and has something for everyone. Coming to hike along the magnificent sandstone cliffs, fish in the South Boulder Creek, or just take in the breathtaking scenery, locals and tourists alike frequent this day-only park year-round. If you are wondering what to do in Boulder with active kids, this is a great place to explore.
Eldorado Canyon State Park is home to some of the best rock climbing in the world and offers over 1,000 technical rock climbing routes in and around its golden cliffs. South Boulder Creek is also ideal for fishing, paddling, swimming and picnicking during the warm summer months, while winter sees cross-country skiers and snow hikers enjoying the scenery.
The state park is open during daylight hours only, and visitors must leave before dusk. There is a small entrance fee.
9 Kneale Road, Eldorado Springs, Colorado 80025, Phone: 303-494-3943 
If you are looking for something a little slower paced and more relaxing you can visit, Long's Iris Gardens!
Long's Gardens, Boulder 
Founded in 1905 by J.D. Long, Long's Gardens is a third-generation, family-owned and -operated iris farm in the heart of Boulder. The farm offers a tranquil escape for visitors from the city and specializes in growing and selling bearded iris, which provides spectacular natural scenery when in bloom from May through early June.
Long's Gardens sells iris plants ranging in size from the Miniature Dwarf Bearded at 8 inches in height to the Tall Bearded at 27 inches and higher. Long's Gardens also sells T-shirts, tote bags and books on caring for irises.
Visitors should note that the gardens are only open during blooming time: May through June.
3240 Broadway, Boulder, Colorado 80306, Phone: 866-442-2353 
  If you prefer to be inside where it's a little cooler, away from the sun, you'll want to check out a Boulder must see!
Boulder Dushanbe Teahouse
Overlooking Boulder Creek in the heart of Central Park, nestled in the foothills of the Rocky Mountains, the Boulder Dushanbe Teahouse is one of Boulder's most beautiful and popular tourist attractions. Handcrafted in Dushanbe, Tajikistan and shipped to Dushanbe's sister city of Boulder as a gift, the elaborate teahouse features exquisite exterior tile panels, a hand-carved and painted ceiling, and a fountain of seven hammered copper sculptures based on a 12th century poem, "The Seven Beauties. "
Traditional afternoon tea is served with crisp English-style white linens and teatime accoutrements, including a three-tiered tower of freshly baked cakes and scones, sweet and savory pastries, and cucumber sandwiches, as well as a range of usual and unusual teas.
1770 13th Street, Boulder, Colorado 80302, Phone: 303-442-4993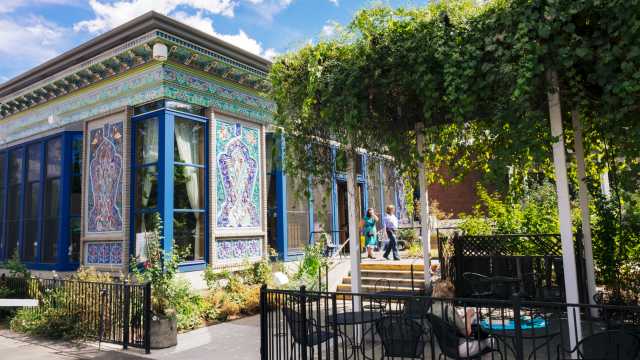 If your into outer space, stars and planets you'll definitely want to check out this local favorite, the Planetarium, on a day too hot to be outside!
Fiske Planetarium 
Based at the University of Colorado, the Fiske Planetarium is a popular attraction for both locals and visitors who love the stars. The Planetarium features a variety of exhibits, presentations and shows about the sky, the stars and the universe.
Shows are presented in one of the highest resolution theaters in North America, an Sky-Skan 8K full dome immersive theater, where visitors are surrounded by a 65-foot diameter screen, spectacular visuals, and incredible sound while the star machine displays over 20 million stars and the Milky Way. Visitors can also enjoy late-night laser shows with a new state-of-the-art laser system, as well as the popular Friday night stargazing at the Sommers-Bausch Observatory.
Weather permitting, stargazing evenings are held on the Sommers-Bausch Observatory's Observation Deck on Fridays throughout the year, whenever the University of Colorado is open. Stargazers can explore the night sky through pier-mounted 16-inch and 18-inch telescopes as well as tripod-mounted binoculars and identify the stars with the world's largest star wheel.
2414 Regent Dr, Boulder, Colorado 80309, Phone: 303-492-5002 
Have a safe and happy rest of your week Boulder!